The Cherokee and the Slave
HISTORICAL NOVEL BY SAMUEL H. JOHNSON

One day, someone will come and take you where you do not choose to go. (From John 21:18)


That is what happened to thirteen thousand Cherokees in 1838.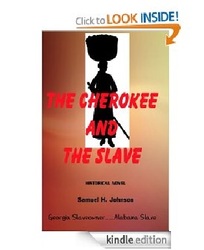 Now available on Amazon.com Kindle Reader!
Go to Amazon.com or click HERE to download THE CHEROKEE AND THE SLAVE to your KINDLE, computer, tablet or other reading device. Thank you for visiting this website: THE CHEROKEE AND THE SLAVE.
The website is under development. Please revisit again soon for more information and upcoming features, including:
---
Chapter Headings you will find in the book:
The Cherokee
Eagle Hunter's First Slaves
The Runaway
They are Hungry for our Land
The Cabin Boy
The Train!
The Cherokee and the Slave
The Slaves
One Very Stubborn Civilized Tribe
The Cherokee, Just Another Indian
General Winfield Scott and the Militia
Indian Removal
The Cherokee and the Slave
The Decision
Summer of Danger-Summer of Fear
Escape From Alabama
The Trail of Tears
Oklahoma Territory
Escape From Alabama?
A Most Un-Civil War
Reunited Again: The Cherokee and the Slave
No More Trails, No More Tears
Cherokee farmers bought and owned Black slaves!
Most American history books skip right over that story. In an effort to retain traditional homes in the southeastern states, some members of the "Five Civilized Tribes" imitated their white neighbors in every possible way, including the ownership of slaves.

Then something happened; something that was to change the lives of the Cherokee Nation forever.

In 1838, armed U.S. militia routed thirteen thousand Cherokee men, women and children from their homes in Georgia and Tennessee. "Indian Removal" meant forcing the Cherokees to travel 800 miles westward to the Oklahoma Territory along the tragic route that came to be known as the "Trail of Tears."

Some of the Cherokee families took their slaves with them.
Eagle Hunter is a slave owner on his farm in northern Georgia.

Amanda is a young slave, a housemaid on a plantation in northern Alabama.

THE CHEROKEE AND THE SLAVE is their story.
Surprised!? I was shocked to discover that some Cherokee farmers bought and owned slaves. My second shock came when I learned that when the Cherokee families were ejected from their homes and forced to travel west, some Cherokee men escaped near my home town, Florence, Alabama.

What if ...What if one of the Cherokee escapees encountered my great-great-grandparents, the slaves Louis and Amanda? Sounded like a good story to me, especially when my long-time friend, Dr. Shirley J. Jones, State University of New York (SUNY) at Albany, convinced me that this could be the focal point of a very informative novel. Note: Dr. Shirley J. Jones is Distinguished Professor Emeritus at the New York State public institution that now is referred to as "University at Albany" or "UAlbany."
~~~~~~~~~~~~~~~~~~~~~~~~~~~~~~~~~~~~~~~~~~~~~~~~~~
HARK! THE HERALD ANGELS STILL SING
Here is the link to the Hidden Gems podcast, a collection of narrated short stories. One of the short stories on the podcast is my Christmas story HARK! THE HERALD ANGELS STILL SING. It's the first chapter of my short family novel GABRIEL'S FAVORITE ANGEL.
I hope you like it. Click on the link, then select "podcast."
Thanks for listening.
~~~~~~~~~~~~~~~~~~~~~~~~~~~~~~~~~~~~~~~~~~~~~~~~~~
A to Z BIBLE GUIDE ON LIFE
My Friend ANN HAMPTON has allowed me to share an announcement and link to her important book A TO Z BIBLE GUIDE ON LIFE. This is her introduction.
The world seems to be going crazy. Everywhere you look people are either angry, depressed or have no hope. There is so much hatred and violence that we want to stay inside and hide under the covers.
Rather than giving up, we should turn to the one source that could give us relief, The Bible. From A to Z, this book covers the main issues that trouble one's soul and how God's word can be a source of relief.
When you learn to live by his word rather than man's word or Satan's lies, things will open up and your life will change. My prayer is that this book will be an inspiration to you as well.
You can use this as a group or individual bible study by purchasing the workbook.
If you or someone you know is having a hard time trying to make sense of what is happening in the world today, check out Ann's new book A TO Z BIBLE GUIDE ON LIFE.
A to Z Bible Guide on Life - on Amazon.com
Workbook - A to Z Bible Guide on Life

~~~~~~~~~~~~~~~~~~~~~~~~~~~~~~~~~~~~~~~~~~~~~~~~~
WHAT'S IN A NAME ?
People ask me why I switched from Sam Johnson to Samuel H. Johnson when I wrote my historical novel. I explain that longer names stand out more than a common name like Sam Johnson. Longer names like Samuel L. Jackson, Stephen A. Smith, William B. Williams, Alvin John Waples, John Wilkes Booth, Karl Anthony Towns, Ralph Waldo Emerson, Franklin Delano Roosevelt, John Foster Dulles, Mean Joe Greene. Of course short names and nicknames like Shaq, Serena, Tiger and Prince are in a class by themselves..
But just think, it's hard to remember a common name like Joe Johnson, even when he's winning games with buzzer beaters. Who would remember John Paul Jones without his middle name? You need a colorful name like The Rock, the Honey Badger, the Greek Freak, Crazy Legs, White Shoes, Long Lean Lanky Larry Dean, skinniest man you ever seen.
Like Scoochie Smith, Night Train Lane, Boxcar Bailey. Now Boxcar was a REAL football player, but I'll save him for another time.
There are exceptions, for sure. For example Jim Brown sounds like a regular ordinary name, but Jim Brown is a most extraordinary man. He never needed a colorful nickname. By the way did you know that Sonny Jurgensen's real first name is "Christian?"
And the list goes on.
01/11/2018
When I was a kid, we always said "Let's play cowboys." We didn't say much about Indians.

We learned about Native American Indians from the big screen on Saturday afternoons. We called western movies "cowboy movies." And when I thought about Indians, I pictured the movie version. The herd of Indians with loud war whoops, painted faces and bodies as they rode bareback across the black and white screen, usually chased by the intrepid Calvary in uniform, or the manly six-gun cowboys, especially those with white hats. Never saw a single Buffalo Soldier.

If we thought about the Native Americans at all in detail, if we tried to personalize the Indians, we might come up with a few names. The first of course, would be The Lone Ranger's Tonto. Red Ryder had a sidekick also, Little Beaver, usually played by Bobby Blake, who became Robert Blake, and was later suspected of killing his wife. Then there were a few other names that filtered through our consciousness like Sitting Bull, Geronimo and Crazy Horse. In class we learned about Pocahontas saving poor John Smith, then finding her true love in another settler, John Alden. We heard about the starving Pilgrims being saved and fed by the Indians in Massachusetts, showing up just in time bringing their turkey and dressing. Then we read about Custer's last stand, where he and his troops were killed by the horrible Indians.

Digging a bit deeper into our literature, we found the "Last of the Mohicans". This was an attempt to get beneath the skin and supposedly understand the ways of the "red" man. More recently, Hollywood has turned out some in-depth portraits of Indians and their ways. In epics such as "The Last of the Mohicans" again, and "Dances with Wolves." Meanwhile, a lot of Native Americans came and went on film, speaking some sort of limited and guttural English, usually greeting the intrepid cowboy with a raised open hand and the word "How."

Then there were songs like "Indian Love Call" and the jazz classic "Cherokee" with Sarah Vaughan singing about the "Brave Indian Warrior." We recited Longfellow's epic Song of Hiawatha…"By the shores of Gitche Gumee, By the Shining Big Sea Water, lived Hiawatha and old Nocomis---."

We learned to recognize and appreciate Indian art, beads, baskets, and jade jewelry. And as we began to study more serious works, we met and admitted into our consciousness the various tribes of Indians, and to appreciate their plight as they receded and died, reduced by the ever-encroaching settlers. And we heard about them losing all their buffalo as hunters riding on the cowcatchers of transcontinental trains slaughtered hundreds and hundreds of buffalo for sport. We heard about Indians being forced onto reservations and we learned to appreciate individual heroism of Indians in battles and in sports. Jim Thorpe, all American comes to mind.

And then there was Ira Hayes, the U.S.Marine who helped to hoist the flag on Iwo Jima. Hayes was immortalized in the famous photograph that the critics claimed was posed for the shot. Indian art, Indian crafts, Indian religions, We discovered that Indians revered and were at one with nature, the pure, uncluttered land and forest and pure water. We adopted their canoes and their kayaks. We wore moccasins without once thinking about their origin. We adopted and misused words such as peace pipe, tomahawk, totem pole, warpath, chief, squaw, and papoose. Our maps are dotted with Indian names, Tuscaloosa, Dakota, Chattanooga, Tuskegee and hundreds of other counties, rivers and places. We heard the story that Peter Minuit bought Manhattan Island for $23 or $25 worth of beads.

In many of the movies, the brave Indians were portrayed by strong white actors. Jeff Chandler made a splendid Cochise. The noble Cochise, whose stature and character were portrayed in positive contrast to some of the scheming, whiskey-selling traitors who habitually cheated the Indians out of their gold and furs for a few trinkets.

Other names from the big screen were Jay Silverheels, who usually played Tonto to Clayton Moore's Lone Ranger, Wes Studi, Graham Greene, or Iron Eyes Cody.

All in all, the average non-native American absorbed only surface, thin-surface impressions of the original inhabitants of these United States.

We had a vague impression that Indians lived throughout Canada, and were somehow related to the Eskimos in the northern regions of this continent.

We lamented from a distance, Indian Removal, "the Trail of Tears."

Gold-seekers continually invaded the lands set aside for the Indians as theirs "forever.". Greedy land grabbers, ranchers, and gold seekers ignored treaty after treaty. First came the fur trappers, then came the settlers, and then came the large ranchers. And all of them changed the faces of the American Indians over time, while we only caught glimpses of those changes from movies and books. We absorbed and accepted other impressions of Native Americans. We've gradually learned about the role of American Indians during World War II, when the Navajo language was used to confound the enemy codebreakers. Apparently they never figured out what the wind talkers were talking about. The same was true for the Choctaw soldiers in World War I.

In contrast, the overwhelming impression that we received was that the Indians were savages. The missionaries sought to convert them, the settlers needed to destroy them, or at the very least, needed to push them back to some vague, undesignated area out toward the sunset.

For African Americans, many of us would respond when asked, "yes, there's Indian blood in our family." Most of us had some understanding of the role of the Seminole Indians. Those of us who started to dig into history a little deeper came away with the impression that the Seminole Indians were intertwined with African Americans in some positive way, and that one spur of the underground railroad actually ran south to the bayous instead of to the north. We knew that there had been a great deal of intermarriage between Indians and the early African Americans. Some degree of happy compatibility, some joining together, some blending, some non-threatening blending must have taken place. These were our thoughts when we bothered to consider the mixed heritage and historical relationships between Black people and American Indians.

Recently, our knowledge concerning Native Americans broadened to include a gradual awareness that the reservations or the Indian-owned areas are somehow outside the legal limits of the States and the United States, making it possible for many gambling casinos to spring up there. We came to understand that these lands are like independent nations, or that some sort of treaty or international agreement is in place or that the tribal governments are bound only by their own laws. We understand that the casinos and the surrounding retail and tourism industries that grew up around the casinos result from being outside state and federal law. Indian-owned casinos have become accepted features of the United States landscape.

This brings us to one additional impression, one additional face worn by some of the Native Americans, one that was not presented in fact or fiction, rarely in history books, not in films, not in novels, not even in documentaries. And that is the additional impression that prompted me to write THE CHEROKEE AND THE SLAVE. (To be continued)
JUDGE RULES! CHEROKEE FREEDMEN WIN TRIBAL CITIZENSHIP
The long fight is over! On Wednesday, August 39, 2017 the long series of legal battles in the United States courts ended with a resounding win for the descendants of slaves who were owned by members of the Cherokee Nation. U.S. District Judge Thomas F. Hogan ruled that the 1866 post-Civil War treaty guarantees citizenship to the former slaves, the "Cherokee Freedmen," and by extension, to their descendants. The long-sought ruling means that 28,000 Freedmen can enjoy the full rights of citizenship that the case, CHEROKEE NATION v. NASH requested.
The Cherokee Nation Registration Office in Talequah, Oklahoma is now accepting citizenship applications.
THE CRADLE DID ROCK
In my open letter to Dan Snyder I came out against the name "Washington Redskins." One of my arguments was that Miami University (Ohio) known as the "Cradle of Coaches" rocked a long standing tradition by changing their nickname from the controversial "Redskins" to "RedHawks" in 1997 after 66 years.
Despite the cost of changing their uniforms, signage and paraphanalia, Miami made the switch to "Redhawks" and kept right on building their tradition. Several other colleges and universities changed their objectionable names and mascots as well. (See Open Letter "Come On Dan!" below.) Meanwhile, Snyder refuses to bend to outside pressure.
Beginning with Earl "Red" Blaik, a long line of graduates and coaches gave Miami U. that "Cradle of Coaches" title. Blaik, who played for three seasons at Miami before starring at West Point and later coaching the Army team from 1941 to 1958 was probably the first Miami graduate to achieve coaching greatness.
Here are some of the other names:
Paul Brown, Ohio State, Cleveland Browns
Woody Hayes, Ohio State
Paul Dietzel, Louisiana State
Ara Parseghian, Miami University, Northwestern, Notre Dame
John Pont, Indiana
Jim Root, New Hampshire
Weeb Eubank, Baltimore Colts, New York Jets
Bo Schembechler, Miami University, University of Michigan
Carmen Cozza, Yale
Sid Gilman, Los Angeles Rams, San Diego Chargers,
(Miami University RedHawks Official Athletic Site; Miami University Libraries, other)
See: my article THE COACH posted to The Sports Column. www.thesportscolumn.com
AFRICAN CHEROKEES IN INDIAN TERRITORY by Celia E. Naylor
This is the title of a really well constructed and researched exploration of Cherokee/Slave history. Dr. Naylor has brought vivid depictions of what happened to those "African-descended individuals" who were enslaved by Cherokee slaveowners to her book. Her subtitle is "From Chattel to Citizens."
The author serves on the Barnard College of Columbia University faculty as Associate Professor of History and Africana Studies. We have not yet met in person but I appreciate receiving recent encouraging emails from this distinguished scholar.
CONNECTING WITH PHOENIX PUBLIC POSSIBLE? MAYBE NOT!
It seemed impossible to place THE CHEROKEE AND THE SLAVE in the e-book collections of public libraries because it was not published by an established publisher. Libraries only select e-books from a special source (or sources), and apparently they have rules that they must follow. However, after meeting with the appropriatae librarian at Phoenix Public, I sense there is a real possibility that she will add the novel. Wow!
I gave her plenty of background information and followed up with a letter on April 6th. I enclosed a transcript of an interview about the ongoing battle in U.S. Federal Court between descendants of the Cherokee Freedmen and the Cherokee Nation. As the novel informs, following the Civil War, the Cherokee slaveowners had to free their slaves and enroll them onto the Tribal Rolls as citizens of the Cherokee Nation. This was signed into law by treaty. The reason for the court battle is that the descendants names have been purged in violation of that treaty.
I pointed out that this novel focuses on the ongoing Cherokee/Slave relationship and that makes the historical novel very current.
To learn more about the court case, you may Google that subject and read all of the reports and articles that tell this fascinating story.
OBJECTIONABLE NICKNAMES
On Friday, January 30th I read a Press Release from a Dan Quigley in which he attacked the activists, critics, and plaintiffs who oppose the use of objectionable sports nicknames, especially the National Football League's Washington Redskins. In his press release Mr. Quigley uses the word "tribute" over and over, claiming that such nicknames are real tributes to Native Americans.
I responded to his press release with an email in which I disagreed with his views, while respecting his right to express those ideas. I challenged Quigley with this question, "Have you ever heard a Native American man or woman proudly proclaim "I am a redskin?" And added, "I doubt it."
At no time during my years of research for THE CHEROKEE AND THE SLAVE and the forthcoming sequel THE CHEROKEE AND THE SCHOOLTEACHER have I ever observed the use of that term in other than in a negative, derogatory and highly insulting manner.
Next, I attached a copy of COME ON DAN, my open letter to Dan Snyder, the owner of the Washington team. Right now the term, "Come on man" is very much in vogue among athletes and sports fans. My open letter using my twist on that phrase is posted here on this web page. See "COME ON, DAN" Mr. Snyder has adamantly refused to change the name of his team and has the support of peope such as Mr. Quigley.
I hope to receive a response from Quigley, and if I get one, I'll post it here.

EAGLE HUNTERS
EAGLE HUNTER, the Cherokee is the name of the leading character in my historical novel, The Cherokee and the Slave. When I came up with that fictitious name I didn't know that professional hunters in Western Mongolia practice a form of falconry using trained golden eagles! In the Bayan-Olgii Province there are an estimated 250 Kazakhs who hunt with eagles today. Eagle hunters hunt red foxes and hares during the annual Golden Eagle Festival of Mongolia, held during the cold winter months when it is easier to see the gold colored foxes against the snow.
Each eagle hunter starts training his eagle when it is young to develop trust and dependency. The eagle hunters and their trained birds hunt from horseback.
Archaeologists trace falconry in Central Asia back as far as the first or second millennium BC.
Source: WIKIPEDIA The Free Encyclopedia. Hunting With Eagles
The Eagle Hunter of my historical novel is one of the Cherokee farmers and plantation-owners who bought black slaves to work on their properties in Georgia and Tennessee. In 1838, when the armed militia routed the 13,000 Cherokee men, women and children from their homes and forced them to move to the Oklahoma Territory, some of the Cherokee farmers took their slaves with them. Their brutal and tragic march westward came to be known as the Trail of Tears, because so many died along the way.
I'm glad I decided to give the name EAGLE HUNTER to the main Cherokee character in my story, even though I didn't know anything at all about the long and significant history of the proud, innovative and colorful Eagle Hunters of Western Mongolia.
COME ON, DAN
The protests are getting louder. Every day there are more complaints against the National Football League's Washington, DC team's nickname because it is hostile and abusive, offending many Native Americans.

Several colleges voluntarily changed their team nicknames. Despite the expense, they switched their team uniforms, arenas, sports gear, letterheads, printed publications and web sites. My Miami University (Ohio) Redskins changed to the RedHawks in 1997 and the St. John's University Redmen are now the Red Storm. Stanford University changed from the Indians to the Cardinals in 1972. The University of Illinois has retired the buckskin-clad mascot, Chief Illiniwek after more than 80 years.

Dan Snyder, Washington's owner refuses to consider altering the nickname and images, whether they are insulting or not. Their headdress-wearing marching band still plays a raucous "Hail to the Redskins" after every home field touchdown.
Have the other teams used up all of the good names? We already have Wildcats, Tigers, and Lions; Bears, Bruins and Grizzlies; Eagles, Falcons and Orioles; Raiders and Buccaneers, Colts and Mustangs, Longhorns and Mavericks, Yellow Jackets and Hornets, Dolphins and Marlins, the Hurricanes and the Avalanche; the Heat and the Suns, and even the University of California, Santa Cruz team, the Fighting Banana Slugs; There must be some other good names left.
Come on, Dan! If I had used your team's nickname in my historical novel, THE CHEROKEE AND THE SLAVE, I would be highly criticized.Come On, Dan!